Speicher V is in full planning and we just need to announce that "we did it again" – our infamous physical tickets are now available for purchase at Zabriskie book shop in Kreuzberg and Staalplaat record shop in Neukölln (adresses & opening times below)! Time for a little anthology of our beloved Speicher hardware: While 2017 and 2018 were clearly dominated by screenprinting and stamping, the 2019 edition had a more brutalistic touch which is most obviously reflected by the medium of choice – "cement". To be very precise: "Knetzement". 2020 was a tough one. Since we offer immersive experiences to the Speicher audience anyway, we also tried to embed the new Covid regulations in an immersive scenario. Thus the entrance area of "Speicher IV" was airport-themed – including the captain speaking, lemon tissues, personal boarding passes and a raffle for a Fiat Multipla. Who won actually? We almost bought one.
It's been 5 years of Speicher festival now, so we were thinking: Why not give the proud owner of a physical ticket something very personal and Speicher-specific? Sounds good in theory, but how would we accomplish that? One day, accidentely driving by Checkpoint Charlie and looking at the souvernir shops selling Berlin wall pieces, the most obvious idea occured to us: We proudly present the Original, Authentic and Genuine Speicher Bricks! Of course they come with a very official Certificate of Authenticity which guarantees not only the originality of the brick and admission to the concerts, but also 100% satisfaction!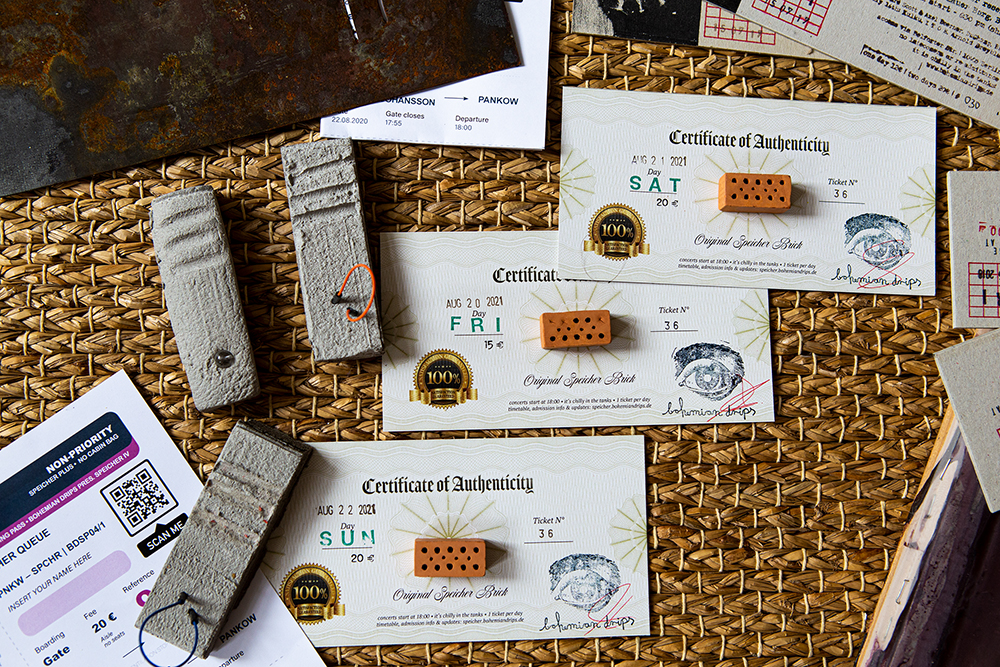 All in all it's just another brick in the wall – so make sure to visit Staaplaat or Zabriskie if you want one of these original pieces.
You can also visit speicher.bohemiandrips.de and purchase online-tickets, there are still a few left!
bohemian drips presents: Speicher V
August 20–22 2021
a festival for site-specific music in the old water reservoirs of Berlin-Pankow
Mazen Kerbaj & Ute Wassermann • Zinc & Copper • Els Vandeweyer & Rieko Okuda • Hiss & Viscera (Audrey Chen & Richard Scott) • Berke Can Özcan • Sicker Man & Kiki Bohemia • Marta de Pascalis • Die Milchstrasse Flockt mit Peter Pichler • Ian Medina
× timetable, admission requirements & more information: speicher.bohemiandrips.de
× Facebook event
× physical pre-sale at
Staalplaat record shop
Elbestr.28-29 Hinterhof
12045 Berlin, Neukölln
Monday to Saturday, 12am to 8pm or on appointment
www.staalplaat.com
Zabriskie book shop
Reichenbergerstr 150 10999 Berlin
T: + 49 (0) 30 695 667 14
Monday to Saturday from 12am to 6pm
https://zabriskie.de/
Please check our channels for updates and Covid-regulations!