After many weeks of Covid-related uncertainity, we can now finally announce the fourth issue of "Speicher", currently scheduled for August 21 and 22. By default, this festval for site-specific music is located within the big water reservoir of Berlin-Pankow. Before you read the obligatory Covid-disclaimer below, we want to say that we're very much looking forward to experiencing how the invited artists will come up with creative approaches to implement the special acoustics of this space in their compositions – although the final event-format is yet to be determined. And yes, there will be a grand piano in the reservoir:

Jan Jelinek & Sven-Åke Johansson
• piece for seven dictaphones & one cymbal | electroacoustic

Ingrid Schmoliner & Elena Kakaliagou
• prepared grand piano, voice, horn | acoustic

Andrew Pekler
• amami remote visitation | electronic/audiovisual

Limpe Fuchs
• pendulums, self build instruments | acoustic

Facebook-Event

It's never been easy to host concerts in these spaces – but this year has of course another apparent obstacle. We're holding this back since months and since the current Covid-19-guidelines leave some hope for the end of August, we decided to announce the festival as an event with physical audience. Of course the final format is subject to change and of course every single guideline effective by that time will be implemented in a yet-to-define "Hygienekonzept".

We'll keep you posted about everything. "Don't call us, we call you!" 😉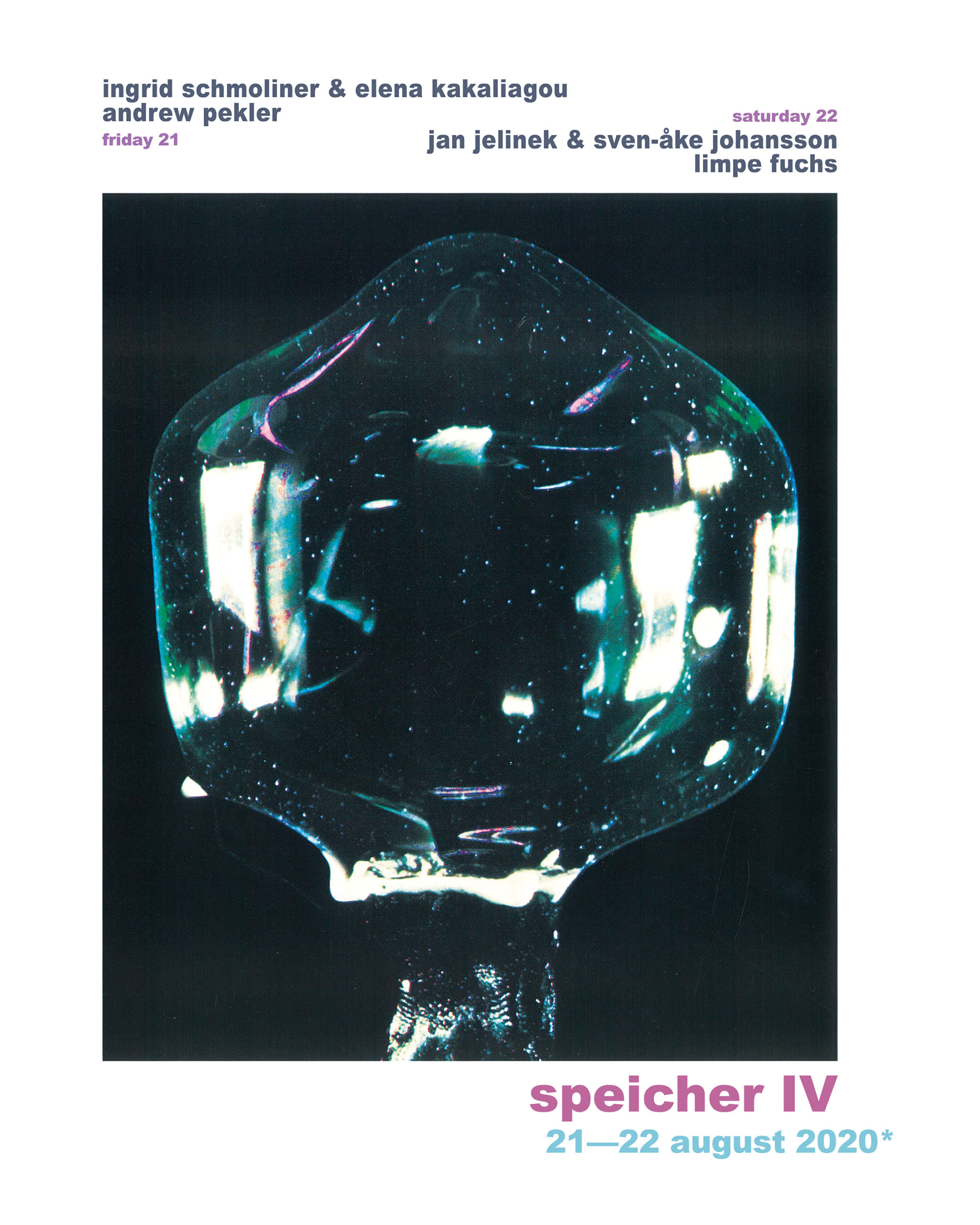 Press release:
bohemian drips presents: Speicher IV August 21 & 22 2020 *
Jan Jelinek & Sven-Åke Johansson • Ingrid Schmoliner & Elena Kakaliagou • Andrew Pekler • Limpe Fuchs

Speicher is a festival for site-specific music in the big water reservoir of Berlin-Pankow, curated by bohemian drips since 2017. The fourth issue features four concerts over two days, developed exclusively for the long-lasting reverberation of the space itself: With up to 18 seconds of reverb and eerie echo-effects the pieces will be guided by a similar conceptual approach that incorporates the interaction between music and architecture. The audience of Speicher IV will witness four different compositional angles within the sonic scenery of the reservoir, featuring both acoustic and electronic concerts. Visitors are invited to roam the spiraling corridors of the reservoirs to fully immerse themselves in the visually accented performances. Please note the Covid-19 information below.

× programme

_ friday 21 *
__8pm *

Andrew Pekler
• amami remote visitation | electronic/audiovisual
± web: http://andrewpekler.com/phantom-islands

__9pm *

Ingrid Schmoliner & Elena Kakaliagou
• prepared grand piano, voice, horn | acoustic
± web: https://ingridschmoliner.klingt.org/releases/nabelose
± web: https://elenakakaliagou.com

_ saturday 21 *
__8pm *

Limpe Fuchs • pendulums, self build instruments | acoustic
± web: http://limpefuchs.de

__9pm *
Jan Jelinek & Sven-Åke Johansson
• piece for seven dictaphones & one cymbal | electroacoustic
± web: https://faitiche.de/products/puls-plus-puls
± web: http://sven-akejohansson.com

× important | Covid-19

* Subject to change. Currently (June 24 2020) the festival is scheduled as an event with physical audience in strict accordance with the Covid-19 guidelines effective by that time. Updates, concept and more details such as ticketing will be published on www.bohemiandrips.de and on the bohemian drips social media channels.

× address Großer Wasserspeicher, Prenzlauer Berg access via Belforter Str., 10405 Berlin maps: bit.ly/speicher_location
× information on price, details, realization soon
× newsletter signup via: www.bohemiandrips.de
× funded by Musicboard Berlin & Bezirksamt Pankow von Berlin: Amt für Weiterbildung und Kultur, FB Kunst und Kultur
× supported by Förderband e. V.
× questions? write us: info@bohemiandrips.de
× idea and programme: Alexander Meurer & Fillipp Vingerhoets

× previous editions

Speicher III (August 2019)
• Tomoko Sauvage, Thomas Ankersmit

Speicher II (June 2018)
• Audrey Chen, microtub, Sandra Boss, MORPH!, Kudu (Els Vandeweyer, Ignaz Schick, Klaus Kürvers), Sawt Out (Mazen Kerbaj, Michael Vorfeld, Burkhard Beins), Air Cushion Finish, Saba Alizadeh, Clive Bell & Sam Weaver, JD Zazie, Marimba

Speicher I (July 2017)
• Arnold Dreyblatt, Axel Dörner & Richard Scott, Kulku, DuChamp, Big Beats Big Times, ITOE