We're super happy to announce our next release: Tomoko Sauvage – "Fischgeist" [BD013 | 12″ LP]
This LP was recorded during the days leading up to Tomokos concert at "Speicher III" in the big reservoir in August 2019 and will be released on October 16th on bohemian drips! The magical sound of her "natural synthesizers" within the reverberant acoustics of the space was captured in binaural audio (Kunstkopf stereophony).It's been a pleasure working with Tomoko during the recordings and we're really looking forward to finally releasing this LP on vinyl this October.
Stay in touch for the pre-sale info – some words on the release and the unveiled cover below!
Fischgeist was recorded in a former water tank in Berlin-Prenzlauer Berg in August 2019. The nineteenth-century brick building consists of five layered circles, with a spiral staircase in the middle leading up to an exit to a hilltop. Inside, it's humid and cold, the temperature always around 8–10 C°. The building's acoustics produce a long reverberation that lasts up to 20 seconds.
'One day between recording sessions, a man, a passerby, wanted to look inside the building. He told me that it used to be full of fish. For a second I imagined a huge round aquarium with loads of fish swimming around in circles. Then I realized that he meant dead fish were kept there, to be sold on markets during the GDR era. But the image of fish swimming in the space stayed with me.'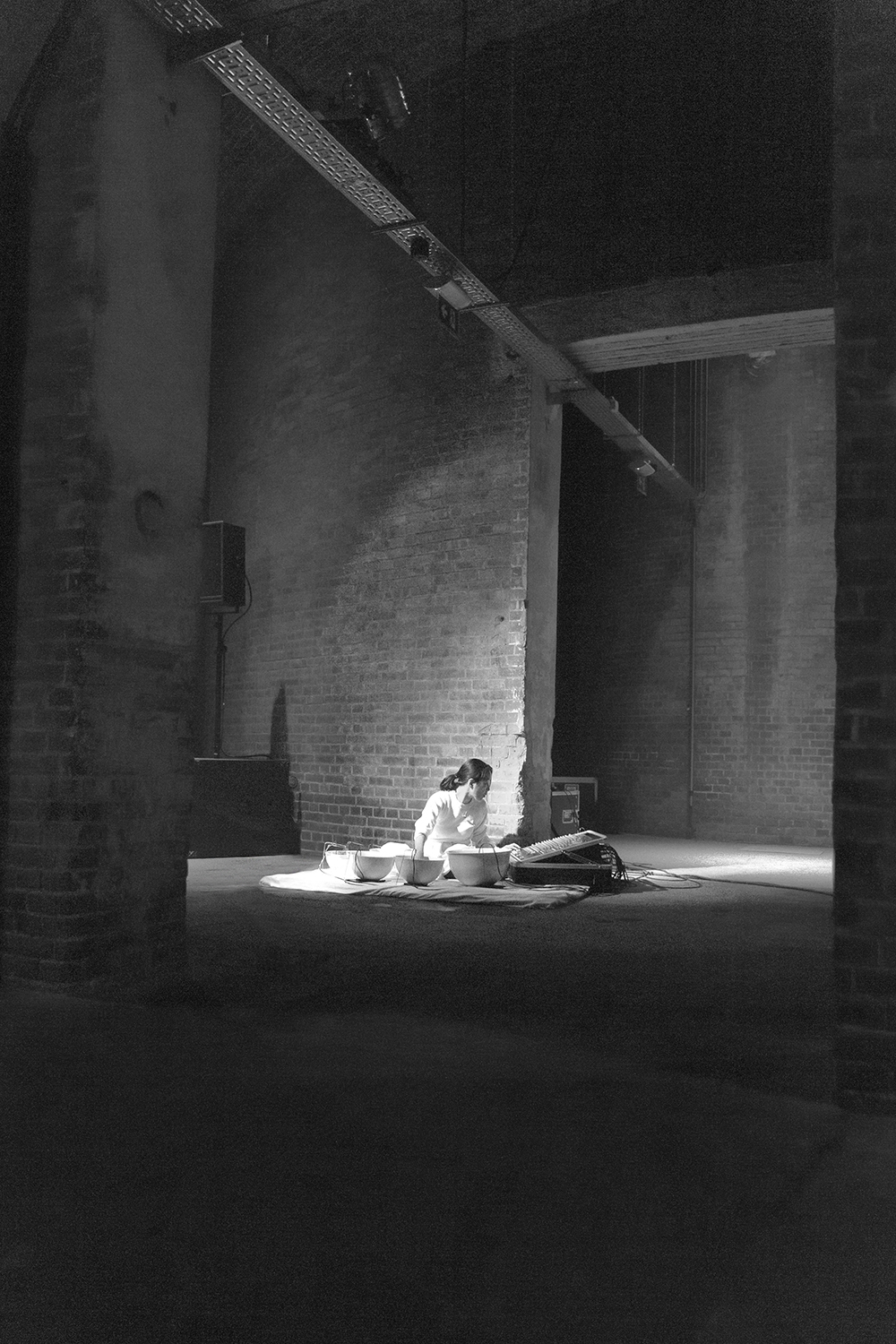 In conversation with the space of the water tank, Tomoko Sauvage searches beyond the limits of her self-invented 'natural synthesizers': porcelain and glass bowls, filled with water and amplified with hydrophones….
… August, when the mid-summer Ghost Festival is held, is traditionally known as the Ghost Month throughout East Asia. The spirits of the dead visit their living families, who welcome them with feasts, dancing and music. Miniature lantern-laden boats are released in rivers, to help lost ghosts find their way home.
Animated by formless matter – water, electricity, sound – Fischgeist celebrates a phantasmagoric journey, as the souls of aquatic lifeforms find their way out of the labyrinth of the water tank.•Composed, performed and mixed by Tomoko SauvageRecorded and produced by bohemian drips prior to 'Speicher' festival in Berlin, August 2019(binaural recording with a KU-100 dummy head microphone)Mastered by Andreas Kauffelt in BerlinCover drawings by Baien Mōri (1798-1851)